The American-style eatery franchise where the staff, according to their social media pages, "pride ourselves on having the worst service in the world", in June 2023 confirmed it will close its Gold Coast, Perth and Melbourne stores.
That leaves only one store in Adelaide, one in Brisbane and two in Sydney.
The restaurant chain owes $4.3 million and has 56 creditors who have lodged claims for money they are owed.
These are just some of the headline-making moments from Karen's Diner in the past few years.
Karen shuts up shop
The controversial restaurant chain, which made a name for its purposely terrible service and rude staff, abruptly shut three of its Australian stores in June 2023.
Karen's Diners stores at Surfers Paradise, Perth and Melbourne all closed.
The Surfers Paradise store (inset), in Chevron Renaissance Shopping Centre, was shuttered on Friday afternoon, with A4 signs stuck to the front simply stating "Karen's Diner Closed".
A post on the American chain's social media confirmed the closures were permanent.
"Unfortunately, all good things come to an end and Karen can't stay forever! Today marks the closing of some of our Australian pop-up stores."
While it developed a following in Australia, Karen's Diner also attracted plenty of criticism, with many customers saying its staff went too far in their quest to offend.
The Karen's post said the brand was not yet finished harassing Australian diners.
"If your local pop-up store has closed, there will be a Karen's Diner On Tour coming to your city this September," it said. "Karen can't stay away and needs to give you a piece of her mind."
Karen's Diner opened its first Australian store in ­Sydney's George St in October 2021, and launched at South Bank in Brisbane in April in 2022 and Surfers Paradise in July.
The franchising entity is based in Adelaide, and has numerous shareholders who invested in the venture as a crowd-funding venture.
'It was shut pretty quickly, it was crazy'
An employee from Karen's Diner in June 2023 revealed just how chaotic the final days were of the Adelaide franchise.
"It shut pretty quickly, it was crazy," the employee said.
"After Friday, we had to tell patrons they could only pay their bills with PayID directly to the owner or pay with cash.
"It's probably the worst business I have ever worked for."
The employee said they were told to tell customers the restaurant was closing because it was a pop-up venue.
"At the start we were told it wasn't a pop-up, it was a permanent thing, it's not going anywhere, no reason to fret," they said.
"Now I've been told it was a pop up that had run its course and now time for their next big venture … it all went to a flop."
Karen to open diner in Ipswich
The controversial and unusual restaurant revealed in September 2022 it planned to open its next venue at Ipswich.
"At Karens you will be greeted and waited upon by rude waiters and forced to play a variety of games," the restaurant website stated.
"Karen's Diner is a place where you can complain until the cows come home because we literally don't care."
A director of Viral Adventures — the company behind the Karen's Diner concept — Aden Levin revealed the planned Ipswich store would open at Riverlink Shopping Centre in early- to mid-November. The store never opened.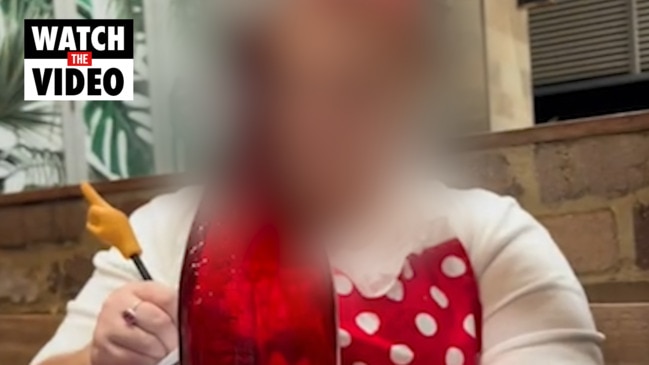 "It's going to be in a good spot. Should be fun," he said.
"Keep your eyes peeled for updates."
The announcement comes as debate over how far is "too far" for Karen's Diner staff members to take jokes ensues online — the controversy prompted by an alleged joke made about a diner's receding hairline.
According to the restaurant's website, topics and behaviours including racist, sexist, homophobic, or ableist comments and slurs, body shaming, sexual harassment, and vandalism or damage to the restaurant are off-limits and not tolerated.
"It's an experience not for everyone," Mr Levin said.
"But for those that come down and are pretty open-minded, it's definitely fun."
Hairline joke goes too far
A woman in September 2022 caught the intense moment an angry customer lashed out at restaurant staff after they allegedly made fun of his receding hairline.
Queensland health coach Bec Hardgrave shared the shocking altercation on her TikTok page, where it rapidly went viral – racking up over 1.3 million views in a matter of hours.
She began the video by explaining how she visited a Brisbane branch of the famous Karen's Diner.
While patrons can expect to be made fun of, there are limitations – no racist, sexist, homophobic or ableist comments or slurs are allowed, according to their website.
The rules also state there will be no body shaming or sexual harassment, and vandalism and food throwing will not be tolerated.
However, Bec claims in her video that the staff did not adhere to these rules and targeted her friends for their appearance.
"Me and my friends went to Karen's Diner, and safe to say I probably won't come back," she began.
After saying that the food was just "OK", Bec went on to talk about the incident she witnessed with a male customer.
She claims the staff made fun of a man – and it did not go well.
"Get this, they told this guy that he had a receding hairline, and this is what he did."
'Suck it up': My opinion of Karen's Diner
News Corp journalist Alasdair Belling in August 2022 outlined his experience when visiting the Gold Coast diner.
"Walking through the door with my wife at 12.34pm for a 12.30 lunch date I'm hit right between the eyes: "Why the f*** are you so late?"
Welcome to Karen's Diner on the Gold Coast.
For the uninitiated, the Karen's Diner concept is as simple as their slogan suggests – "Rude staff and great burgers".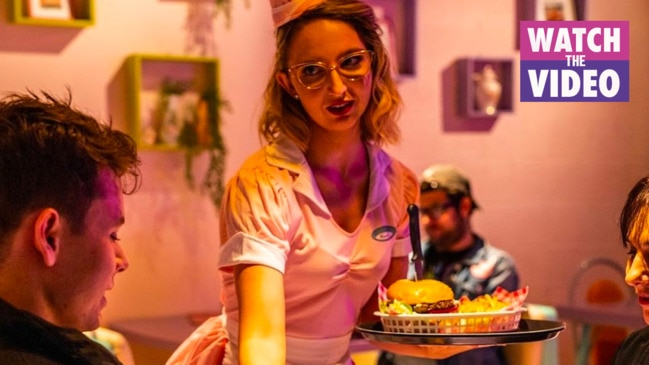 You pay for the privilege of being abused, all with a side order of fries.
For some it is the ultimate perverse dining experience. For others, it can be unsettling.
With my wife and I due for a belated anniversary date, we were intrigued and decided to book ourselves in at the Surfers Paradise eatery.
Armed with a thick skin and sense of adventure, we were expecting things to be slightly more PG, given we had booked for a lunch date.
However, upon greeting the staff we were quickly put in our place.
My wife also quickly found herself in the firing line.
"Why the f*** would you marry this lazy piece of s***? This is why you don't get married in the first place."
Of course, eating is just a sideshow to the main attraction at Karen's Diner – the games.
Despite the constant harassment from staff, for some customers it wasn't enough.
"We came here wanting to be abused, but I haven't been bullied nearly enough," said Zoe Smith, visiting with her husband.
Despite other punters longing for a bit of "treat 'em mean, keep 'em keen" service, we walked away from Karen's thoroughly satisfied we were destined for a messy divorce, mostly due to my laziness for a belated anniversary.
"It's been s*** to see you – f*** off and we hope you didn't enjoy yourselves," said our waiter as we departed.
Real danger of dining with Karen
A clinical psychologist in August 2022 revealed the concept behind Karen's Diner had the potential to be "incredibly dangerous".
University of the Sunshine Coast Associate Professor Helen Stallman said Karen's Diner, in Chermside, which spruiks that staff "manners are non-existent", could be "problematic" for staff and patrons.
"Any exposure to abuse is really problematic for kids," Professor Stallman said.
"They don't have the cognitive capacity to screen things out, and having said that, neither do many adults.
"You don't know what the trigger points are for each person.
"I think (Karen's Diner) are trying to make fun and light of the whole 'Karen' concept …"
Professor Stallman said the appeal of Karen's Diner was undoubtedly driven by the "entertainment value" with the experience "almost like someone giving you permission to be naughty in the classroom".
She said "getting into the habit of going to abuse someone" was a "really unhealthy coping strategy".
"People may continue to ruminate on (a comment) and that could be really damaging to their health," Professor Stallman said.
She said the "damage could be done" after a single visit to the diner.
Journalist's brush with Karen
In July 2022 News Corp journalist Samantha Scott gave her review of Karen's Diner.
"You're such a basic b**ch" is not something I have ever been called before and certainly not in a restaurant, but this was how I was greeted at the controversial Karen's Diner at Westfield Chermside.
I was familiar with the concept, which originated in the United States, but my body felt paralysed as soon as I walked through the door and was forced to pick up my own menu from the ground.
It was at this point that I started to question why I had decided to subject myself to a lunch where I would be incessantly heckled and ridicule … .for an entire hour.
Perhaps the most surprising thing about the whole experience is that I developed the ability to apologis …… and to everythin ……"you're a bit f**king late … …me (two minutes late): "I'm so sorry …… "you would order a coke you basic b**ch … …me: "I'm so sorry".
My best friend had to go to the toilet almost immediately after we arrived at the diner so I sat there for what felt like 20 minutes paralysed with this newly-developed social anxiety.
Just when I thought I had dodged a massive bullet, I was then heckled over the loudest megaphone ever that I had "no friends" with everyone encouraged to give me the finge … .just because I wasn't humiliated enough.
For the most part, comments like "basic b**ch" and "are you filming for your OnlyFans" were like water off a duck's back but when a waiter called my friend "four eyes" that appeared "un-Karen like".
Also, in case you were wondering, the "cholesterol-heavy" menu of burgers, wings and fries definitely wasn't worth the hour-long abuse.
Bitter taste at 'vulgar' eatery
The controversial interactive restaurant was in July 2022 forced to apologise to a family after they were left shell-shocked following a "vulgar" dining experience in Brisbane's north.
The Howard family from Shailer Park said they expected rude comments at Karen's Diner, Westfield Chermside, but the dining experience quickly spiralled.
Stacey Howard and his family decided to visit the diner, which spruiks staff "manners are non existent", during the restaurant's child-friendly hours before 5pm.
Mr Howard said he was "disgusted" after a waiter made a gesture simulating masturbation towards his 14-year-old daughter.
He said he then comforted his daughter before he was referred to as a "pedophile" by the same waiter and told he was "keeping it in the family".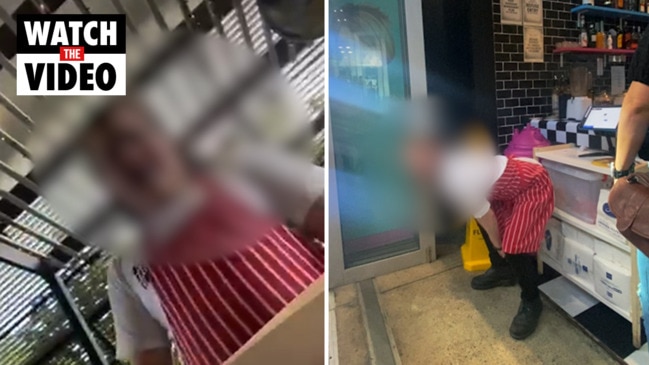 "My daughter was doing a Facebook live and this young guy came up and said 'Are you on OnlyFans you tart? – Here's some content for you' and he pretended to …. himself," he said. "Layla just couldn't believe it – her mouth hit the floor.
"She has obviously been taught sexual education at school but to have a waiter come up and make a gesture like that in front of us … was just uncalled for.
"My daughter sat on my lap because she was concerned and he said 'what are you a pedo?'"
But Mr Howard said there seemed to be double standards when it came to making staff and customers "feel comfortable".
"We just sat there and copped it – it wasn't until we were driving home that my wife looked at me and said 'that was so not right on so many levels'," he said.
A Karen's Diner spokeswoman said "this incident was raised to us directly and we are currently conducting a thorough investigation".
"The actions of this particular staff member are inexcusable and are against everything we believe in as a brand."
The spokeswoman said Karen's Diner "wholeheartedly" apologised to the Howard family.
Karen to serve it up
The "turbulent" pop-up dining experience was in April 2022 announced to be coming to the Gold Coast in July.
After success in Melbourne and Sydney, Karen's Diner confirmed it would make an appearance in Surfers Paradise.
Karen's Diner communications manager Shelley Allen said customers could anticipate great food, including burgers, chicken wings, wedges and more.
"Karen's is a diner like no other," she said.
"Expect turbulent service, singing waiters and regular guest appearances from the manager, who is the biggest Karen of them all."
Speak to the manager?
South Bank was set to get its taste of Karen's Diner, it was announced in November 2021.
Ahead of the opening in January 2022, "Head Karen" and Viral Adventures director Aden Levin said the questionable service at his 1950s-style diner was all part of the fun, with patrons welcome to dish their disdain back at the staff.
"Karen's is just a very fun, silly dining experience," he said. "It's a place where people can come and vent their life frustrations at staff, they can get it back from our staff."
Mr Levin said cheeky waiters are out to embarrass their guests.
"Whether it's making you sing a karaoke song in front of the whole diner or doing a worst-dressed fashion parade, there's lots of stupid things that happen in the dining experience," Mr Levin said.
'Karen's Diner misses the point'
News Corp in November 2021 gave its review of the Sydney franchise.
"The food is actually pretty good, particularly the loaded fries and buffalo wings (but where's our blue cheese sauce? Is there a manager we can speak to? Honestly!)
There are some nice thick shakes and cocktails that make ideal weekend hangover luncheon food, particularly if one spent eight hours the previous day consuming prawn toasts and spring rolls and icy Tsingtaos (tune in next week to learn more).
But does the gimmick work? Well … up to a point. Because the diner has confused Karenism for simple rudeness, the thing sort of misses the point: it's not about lowering standards, but raising them.
And since your average Karen has had 40-plus years to get properly bitter about the state of the world, hiring a bunch of uni students — as Karen's has done — whose primary experience of bullying is online, puts them at a distinct disadvantage when they meet the real thing.
One of our party at a recent lunch was a middle-aged gent with a finely-honed and frankly hilarious bitchy patter who was able to demolish our waiter's attempts at Karening in two or three (mostly unprintable) exchanges.
It was like an antler competition between moose or deer in which the old buck comprehensively won.
And therein lies the problem with Karen's. It's not staffed by Karens, but the people Karens would most likely complain about. If this restaurant is to truly succeed, it needs to go trawling the suburbs for the most Alpha Karens it can find.
Originally published as History of Karen's Diner in Australia, including controversial moments
See more food service industry news, reviews and products at FSX, the Food Service Exchange, the commercial food service industry's go-to source for purchasing overstock, discontinued, and scratch-and-dent equipment and supplies, and you will be shocked at how good our prices are (an average discount of over 50% of today's market price).
The FSX online marketplace provides restaurants, caterers, schools and other food service facilities with access to a wide assortment of products. The exchange allows for direct sales between pre-approved sellers and buyers, ensuring a seamless, reliable, and fast timely transaction process. Whether it is a model from a previous year or an item with a slight imperfection, buyers can purchase anything they need from our extensive pool of pre-selected, certified top equipment manufacturers and dealers. With Food Service Exchange, customers can expect premium equipment and supplies, amazing prices, timely shipping, and consistent satisfaction. Find out more information today about FSX Food Service Commercial Kitchen Equipment and Restaurant Supplies at 20 – 50% off market prices, with a minimum 90-day warranty. Plus, 5-star customer service reviews, unmatched 90-day warranty, and always free shipping!